Product Description
 OFAC oil-free screw air compressor used Japanese Mitsui's original technology, who is the only maintenance service provider in China.
TECHNICAL DATA
 
Model
Power
Pressure (bar)
Air Flow (m3/min)
Noise Level dBA
Outlet Size
Weight (kgs)
Lubricating Water(L)
Filter Element (B)-(Z)
Dimension LxWxH (mm)
OF-7.5F
7.5kw
10hp
8
1.0
60
RP 3/4
400
22
(25cm) 1
1000*720*1050
OF-11F
11kw
15hp
8
1.6
63
460
1156*845*1250
OF-15F
15kw
20hp
8
2.5
65
RP 1
620
28
(50cm) 1
1306*945*1260
OF-18F
18.5kw
25hp
8
3.0
67
750
33
1520*1060*1390
OF-22F
22kw
30hp
8
3.6
68
840
33
1520*1060*1390
OF-30F
30kw
40hp
8
5.0
69
RP 11/4
1050
66
(25cm) 5
1760*1160*1490
OF-37F
37kw
50hp
8
6.2
71
1100
1760*1160*1490
OF-45S
45kw
60hp
8
7.3
74
RP 11/2
1050
88
1760*1160*1490
OF-45F
45kw
60hp
8
7.3
74
1200
1760*1160*1490
OF-55S
55kw
75hp
8
10
74
RP 2
1250
110
(50cm) 5
1900*1250*1361
OF-55F
55kw
75hp
8
10
74
2200
(50cm) 7
2350*1250*1880
OF-75S
75kw
100hp
8
13
75
1650
(50cm) 5
1900*1250*1361
OF-75F
75kw
100hp
8
13
75
2500
(50cm) 7
2550*1620*1880
OF-90S
90kw
125hp
8
15
76
2050
(50cm) 5
1900*1250*1361
OF-90F
90kw
125hp
8
15
76
2650
(50cm) 7
2550*1620*1880
OF-110S
110kw
150hp
8
20
78
DN 65
2550
130
(50cm) 12
2200*1600*1735
OF-110F
110kw
150hp
8
20
78
3500
130
3000*1700*2250
OF-132S
132kw
175hp
8
23
80
2700
130
2200*1600*2250
OF-160S
160kw
220hp
8
26
82
2900
165
2200*1600*2250
OF-185S
185kw
250hp
8
30
83
DN 100
3300
180
(50cm) 22
2860*1800*1945
OF-200S
200kw
270hp
8
33
83
3500
2860*1800*1945
OF-220S
220kw
300hp
8
36
85
4500
2860*2000*2300
OF-250S
250kw
340hp
8
40
85
4700
2860*2000*2300
OF-315S
315kw
480hp
8
50
90
5000
2860*2000*2300
 F– air cooling method     S– water cooling method
                           
The brand "OFAC, OFC" specializes in the R&D, manufacturing, sales and service of compressors, oil-free compressors and air end, special gas compressors, various air compressors and post-processing equipment, providing customers with High-quality, environmentally friendly and efficient air system solutions and fast and stable technical services.
FAQ
Q1: Warranty terms of your machine?
A1: Two year warranty for the machine and technical support according to your needs.
Q2: Will you provide some spare parts of the machines?
A2: Yes, of course.
Q3: What about product package?
A3: We pack our products strictly with standard seaworthy case. Rcommend wooden box.
Q4: Can you use our brand?
A4: Yes, OEM is available.
Q5: How long will you take to arrange production?
A5: Immediate delivery for stock products. 380V 50HZ we can delivery the goods within 3-15 days. Other  voltage or other color we will delivery within 30-45 days.
Q6: How Many Staff Are There In your Factory?
A6: About 100.
 
Q7: What's your factory's production capacity?
A7: About 550-650 units per month.
Q8: What the exactly address of your factory?
A8: Our first workshop located in HangZhou, ZheJiang , second workshop located in HangZhou, ZheJiang ,  China.
| | |
| --- | --- |
| After-sales Service: | 2 Years |
| Warranty: | 2 Years |
| Lubrication Style: | Oil-free |
| Cooling System: | Air Cooling |
| Power Source: | AC Power |
| Cylinder Position: | Horizontal |
| | |
| --- | --- |
| Customization: | |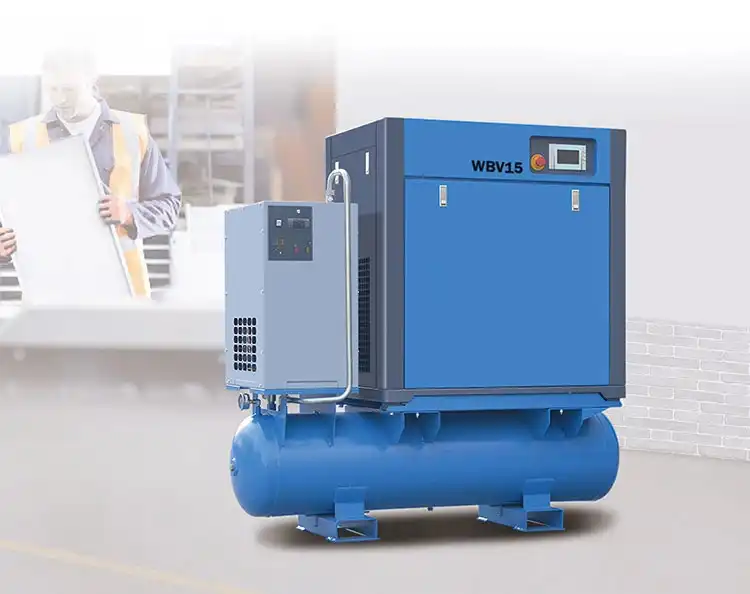 what to see in an air compressor
If you need to buy an air compressor, you should know what to look for. The types of air compressors on the market are classified according to their CFM rating, safety devices, and pumps. There are several differences between lubricated and oil-free air compressors that you should know before buying. To better understand the difference between these types of air compressors, read on. This article will guide you through these differences.
Pump
If you are looking for a quality air compressor, you have come to the right place. A good air compressor pump will provide high pressure for anything from tires to boats and more. There are hundreds of different models to choose from, and the great thing about buying one from a Chinese manufacturer is that they have so many options. More importantly, Chinese manufacturers can customize air equipment such as air compressors at low prices.
A good quality air pump won't break easily, but you'll be able to use it for years. Choosing a high-quality pump will help you avoid many hassles on the road, such as unplanned downtime and installation costs. Plus, a pump from the same manufacturer as your air compressor is your best bet to ensure optimum performance. Listed below are some tips for finding a quality pump for your air compressor.
The air compressor is an important but unremarkable invention. Without them, our lives would be completely different. Without a pump, we can't get hot water from central heating, nor can we get heat from the refrigerator. We can't inflate bicycle tires, and we can't refuel cars. Pumps are vital to all kinds of machines. So why is it important to choose the right product? The answer may surprise you.
Different types of pumps are used for different applications. Positive displacement pumps move a fixed volume of fluid and direct it to a drain. This design ensures constant flow at a constant speed regardless of discharge pressure. Centrifugal pumps work differently. The impeller accelerates the fluid, converting the input energy into kinetic energy. This type of pump is most commonly used in mines, air conditioning, industrial plants, and flood control.
safety equipment
There are several safety features you should check when using an air compressor. First, check the connection of the air filter to the air. If they come loose, parts may separate and cause injury. Another important safety feature is the shut-off valve. When working near compressed air, the shut-off valve should be within easy reach and visibility. Moving parts and other equipment must be protected with protective covers. Check safety valve and replace damaged parts.
Rupture discs are copper discs located on the air cooler. When the air pressure exceeds a certain limit, it bursts. Fusible plugs contain materials that melt at high temperatures. The compressor should have a lubricating oil pressure alarm and cut off the trip signal. If these two safety devices fail, the compressor should be stopped immediately. The rupture disc should be inspected at least weekly to ensure it does not rupture under pressure.
If the pressure level is too high, and overcurrent protection device cuts power to the motor. It also automatically shuts off the compressor when the hose ruptures or the air volume exceeds a preset level. The device should be installed on the air compressor to prevent accidents. Its job is to protect the operator from harm. If employees do not follow these safety measures, they may cause equipment damage.
To ensure safety when operating the air compressor, safety glasses and gloves should be worn. Pressurized air can cause eye injury, and crash goggles can provide a barrier to prevent this. Additionally, the self-retracting cord prevents trip hazards and reinforces excess cord. You should also keep your hands and body away from the air nozzle. This will prevent you from being sprayed with compressed air.
CFM Rating
An air compressor's PSI and CFM ratings indicate the pressure and volume it can deliver. PSI stands for pounds per square inch and measures the force and pressure contained in one square inch of air. These two indicators are equally important when choosing an air compressor. If you need a lot of compressed air for a specific application, you will need a higher psi compressor. Likewise, if you are using compressed air in a smaller application, a low cfm compressor will not provide enough power to meet your needs.
When comparing different air compressors, be sure to pay close attention to horsepower and CFM ratings. While compressor power is essential for some tasks, it is not the most important aspect. The CFM rating of an air compressor will determine how big a project it can handle and how long it takes to charge. Make sure you understand the CFM and PSI ratings of your future compressors, as not knowing these important statistics can frustrate you and drive up costs.
In general, it is best to choose an air compressor with a CFM rating higher than the size of the air tool. This will ensure that the air compressor has enough pressure to work multiple tools efficiently at the same time. While smaller CFM ratings may be sufficient for smaller projects, larger tools such as drills require a lot of air. Therefore, the higher the CFM, the larger and more powerful the tool.
Once you understand the CFM of an air compressor, you can start looking for the right tool. You can check the CFM rating of your air compressor online by commenting below. If you're not sure about the size of your air tool, you can always buy a second air compressor. This is a great way to double the CFM of your air compressor! You'll have more air to do more work, and your compressor will last longer.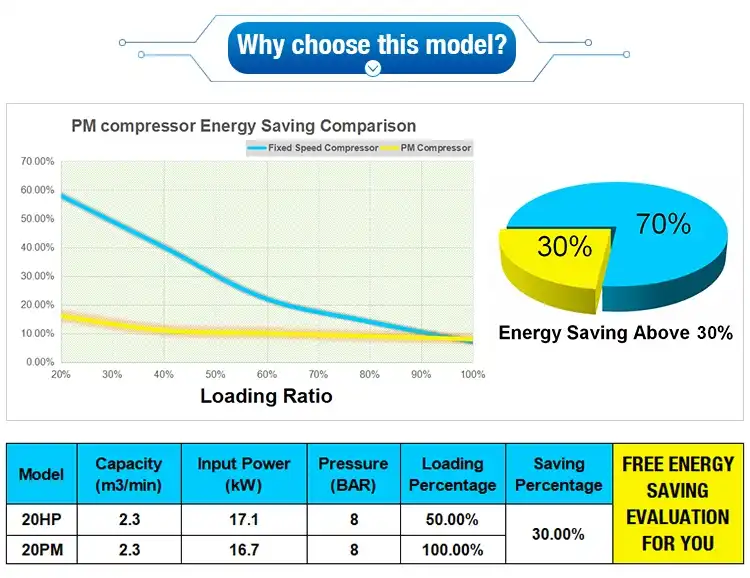 Lack of oil and lubrication
Oil-free air compressors have a smaller footprint and require less maintenance than oil-lubricated air compressors. Although oil-lubricated air compressors are more expensive and heavier than oil-free air compressors, they are also ideal for stationary use. The benefits of oil-free air compressors include greater durability and lower maintenance costs. The advantages and disadvantages of each type are discussed below.
Oil-free air compressors are generally quieter than oil-lubricated air compressors. However, you may still experience some noise while using it. To avoid this, you should choose a quiet intake compressor. However, if you work next to a noisy compressor, you should buy a muffler, an aftermarket filter that reduces compressor noise.
If you want to use the air compressor for a long time, the oil-free model is not the right choice. Its Teflon coating wears off over time, especially at extreme temperatures. Additionally, oil-free air compressors have a large number of moving parts that require regular maintenance, while oil-filled air compressors are great for those who don't want to invest in extra parts.
Another major difference between oil-free and oil-lubricated air compressors is lubrication. Oil-lubricated air compressors require regular lubrication whereas oil-free air compressors are pre-lubricated. They have fewer parts and are cheaper. Oil-free air compressors are lighter than oil-lubricated air compressors. In addition to being more affordable, oil-free air compressors are more powerful and durable.
While oil-filled air compressors are more efficient and durable, they generate a lot of heat. However, they are also more expensive and require regular oil changes. Furthermore, they are difficult to transport. They also need to be permanently installed. These air compressors are also not portable and require a fixed location. So, consider your needs before deciding which type is best for you. When you're choosing an air compressor for your business, be sure to shop around.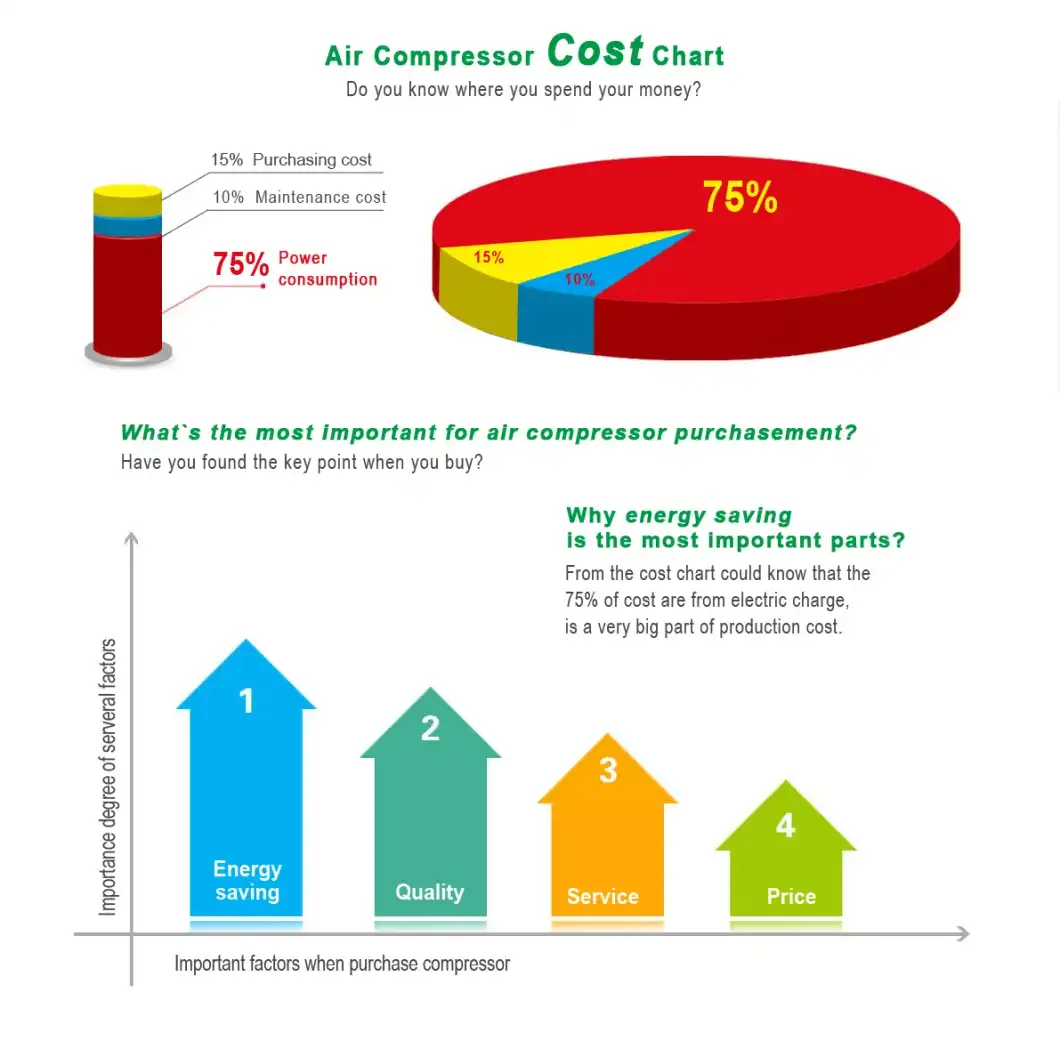 noise level
If you are wondering what the noise level of an air compressor is, the answer depends on your specific equipment and working environment conditions. Typically, air compressors produce 40 to 90 decibels of noise. Although the lower the decibel level, the quieter the compressor will be. Larger, more powerful air compressors produce higher noise levels than their little brothers. But no matter how big the air compressors are, it's a good idea to wear hearing protection while working around them.
When purchasing a new air compressor, the noise level of the air compressor should be considered. While this may seem like a small problem, there are actually a lot of variations on these noisy machines. The most common type of air compressor is the reciprocating piston pump. This model uses pistons similar to an engine to rotate inside a chamber. The piston moves quickly and traps air proportional to its size. Single-piston air compressors are generally noisier than twin-piston models, also known as twin cylinders.
But even if you have the proper equipment to protect your hearing, it's still important to know the noise level of an air compressor. Even if the noise is not immediately dangerous, it can still cause temporary or permanent hearing loss. This condition is called noise-induced hearing loss, and an air compressor with a sound level of 80 or higher can cause permanent hearing damage. You can avoid potential damage to your hearing and prevent accidents by simply paying attention to the noise level of your air compressor.
Air compressors are inherently noisy, but if you take steps to reduce their noise levels, you can minimize disruption to neighbors and co-workers. For example, installing a sound enclosure in your work area can prevent your air compressor from making as much noise as before. Depending on your workspace, you can also try installing a long air hose, which will reduce sound levels by up to 25%.




editor by CX 2023-05-16
Voltage: 12V
Max Pressure: one hundred and one-150Psi
Measurement: 25*5.6*4.7cm
Model Variety: P001
Guarantee: twelve Months
Purpose: Emergency Light, Electricity Indicator, Tire Force Check, Smart & Secure, Electricity Indicator
Merchandise title: Air Compressor Tire Inflator
Type: Electrical Inflator
Coloration: Black
Software: Automobiles
Attribute: Sturdy
Battery capability: 2000 MAh
Packaging Details: shade box
Specification
| | |
| --- | --- |
| item | value |
| Voltage | 12V |
| Max Pressure | 101-150Psi |
| Size | 25*5.6*4.7cm |
| Place of Origin | China |
| | ZheJiang |
| Brand Name | oem |
| Model Amount | p001 |
| Warranty | 12Months |
| Function | Emergency Gentle, Electricity Indicator, Tire Force Keep track of, Wise & Risk-free |
| Function | Power Indicator |
| Product title | Air Compressor Tire Inflator |
| Type | Electric Inflator |
| Color | Black |
| Application | Vehicles |
| Feature | Durable |
Packing & Shipping and delivery To far better make certain the security of your items, specialist, environmentally welcoming, handy and successful packaging services will be offered. Company Profile HangZhou Riboton Technology Co., Ltd. is a large-tech company, specializing in automotive items far more than 6 a long time, Manufacturing facility Sale Higher High quality Helical Worm reduction Gearbox for truck specifically TPMS. The firm rely on comprehensive specialized solution, unbiased R&D crew,rigid good quality handle,quick delivery,sweet service and aggressive price tag.To meet the demands of different buyers, TPMS tire strain detection is our major merchandise, also which includes driving recorder, auxiliary parking program., and so forth. The R&D of skilled automobile peripheral sequence items has won recognition and favor from peers. FAQ 1. who are we? We are based mostly in ZheJiang , China, commence from 2018,offer to North The us(30.00%),Western Europe(23.00%), Computerized rechargeable electric mini digital wi-fi portable cordless tyre inflator automobile air pump compressor tire inflators Domestic Market place(17.00%),Southeast Asia(14.00%),South The us(eleven.00%),Jap Europe(4.00%),Northern Europe(00.00%). There are total about 11-50 people in our office. 2. how can we ensure good quality? Always a pre-manufacturing sample before mass production Usually closing Inspection ahead of shipment 3.what can you buy from us? Tpms,Dash Camera,Air Pulp 4. why ought to you get from us not from other suppliers? We have our own unbiased R&D group with 7 several years knowledge OEM&ODM, distinctive mold can be presented foundation on customized necessity.Rigorous top quality management with guarantee,fast supply,aggressive value and professional service is our guarantee to each client. 5. what services can we provide? Acknowledged Delivery Phrases: FOB,CFR, Sizzling marketing velocity variator pulley for tissue equipment CIF,EXW,Categorical Delivery; Recognized Payment Forex:USD,EUR,HKD,CNY Accepted Payment Sort: T/T,MoneyGram,Credit score Card,PayPal,Western Union,Income Language Spoken:English,Chinese
Types of Air Compressors
There are many types of Air Compressors available on the market. Learn which one is right for your needs and what makes one better than another. Find out more about Single-stage models, Oil-free models, and Low-noise models. This article will explain these types and help you decide which one you need. You can also learn about Air Compressors that have single-stage compressors. If you are looking for a high-quality compressor, this article will help you choose a unit.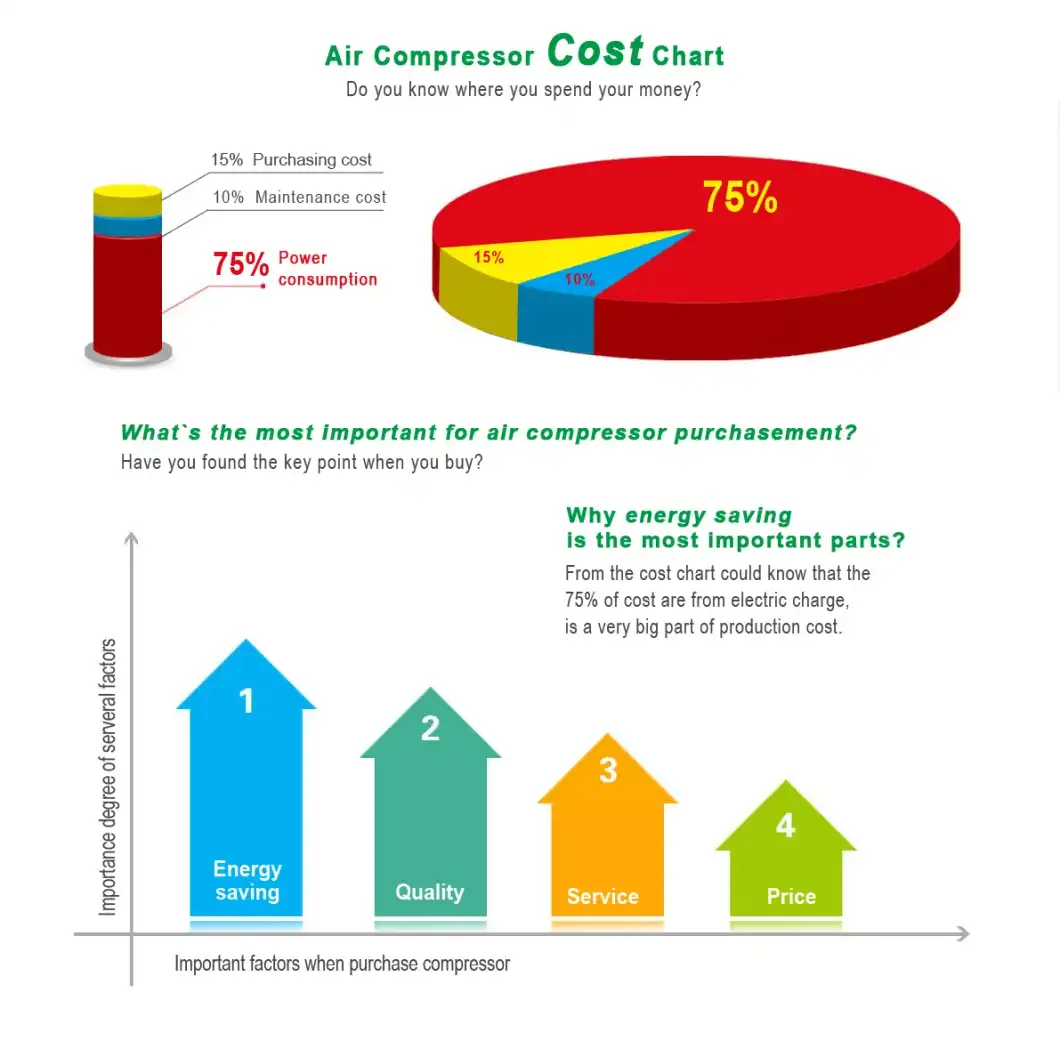 Air Compressors
Air compressors work by forcing atmospheric air through an inlet valve. As the piston moves down, it pulls atmospheric air into the chamber. As the piston rises, it forces the compressed air out of the cylinder through an exhaust valve. One of the most common types of air compressor is the reciprocating type. Another type of compressor is a single-stage piston. These types of compressors compress air in one stroke – equivalent to the complete rotation of the piston's crankshaft.
These devices change electrical or mechanical energy into pressurized air. When air is compressed, its volume decreases, increasing its pressure. Air compressors typically have a minimum pressure of 30 bars. The lower pressure band is the range of air pressure. Most compressors are controlled separately, but network controls can be used to interconnect multiple compressors. This type of controller will not work for all types of compressors. There are other types of air compressors that can communicate with each other.
Compressed air has multiple applications in all kinds of industries. In agriculture, it can power pneumatically powered material handling machines for irrigation and crop spraying. Dairy equipments also use compressed air. Compressors are also used in the pharmaceutical industry for mixing tanks, packaging, and conveyor systems. Portable air compressors, which can be powered by diesel fuel, are frequently used at remote drilling sites. Portable air compressors are also commonly used in oil and gas. They can be used to remotely control valves and install reactor rods.
Whether you use an air compressor for agricultural purposes or in a manufacturing setting, there are some features to consider when choosing an air compressor for your needs. A good compressor will have a safety device. It will automatically shut off the input air and output air once sufficient compressing has been achieved. These features will help your air compressor remain efficient and protect your equipment. The safety device is an important feature of any air compressor to increase its overall efficiency.
Vane air compressors are the most common type. They are generally smaller and less powerful than reciprocating piston compressors, so you can use one of these for applications that are under 100 horsepower. The vane air compressors have low compression ratios and high capacities, but they are generally limited to low-power applications. Vane compressors tend to run hot, and they typically have a low compression ratio. It is important to choose the correct oil viscosity for your compressor.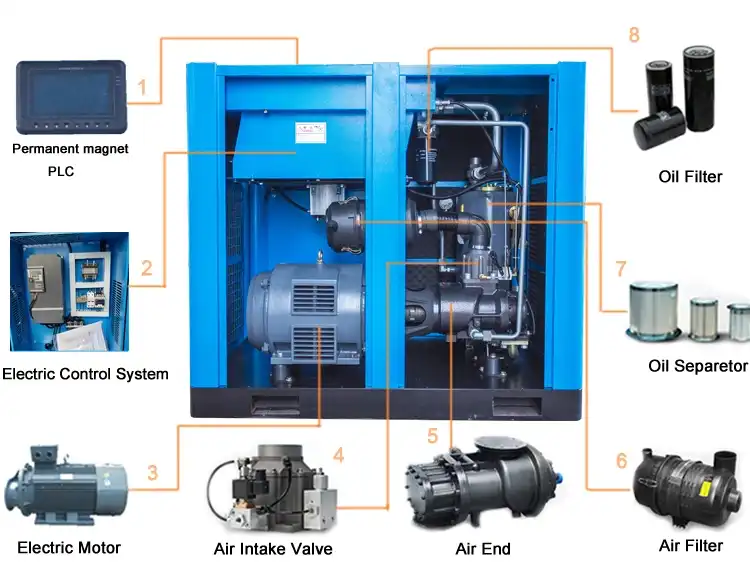 Single-stage models
When comparing single-stage air compressors, look for the term "stages." Multi-stage compressors use two stages and can handle more capacity and pressure. One stage involves pressurizing air using a piston and a lower-pressure cylinder. This compressed air is then moved to a storage tank. Single-stage models tend to be more energy-efficient than their two-stage counterparts. But if you don't need a high-pressure cylinder, a single-stage air compressor can be the best choice.
Although single-stage air compressors produce less power, they can produce enough air to power pneumatic tools and other pneumatic equipment. These single-stage units are most useful for smaller-scale home projects and DIY projects. For more industrial purposes, a dual-stage model is the best choice. But if you're in a hurry, a single-stage unit may be sufficient. Ultimately, it depends on what you plan to do with the air compressor.
Single-stage air compressors feature a single cylinder, one piston stroke for each revolution of pressurized air. Single-stage compressors are typically smaller and more compact, making them a good choice for smaller work environments. Their cfm capacity (cubic feet per minute) is an important indicator of operating capacity. If you plan to use multiple pneumatic tools, you will probably need a higher cfm model. Similarly, the horsepower of single-stage compressors indicates its working capacity. One horsepower moves 550 pounds per foot per minute.
Multi-stage air compressors are generally more expensive and more energy-efficient than single-stage units, but they can offer higher air flow rates. While they may be more complex, they can lower general operating expenses. If you plan on using your air compressor for industrial or commercial use, a dual-stage model might be the best choice. However, if you're planning to use the air compressor for mass production, a single-stage model may be the best choice.
Single-stage air compressors have the same piston size and number of inlets, while dual-stage models have a smaller first piston and a much longer second piston. Both have a cooling tube in between the two pistons to reduce the air temperature before the second round of compression. The single-stage model is typically small and portable, while the double-stage air compressor is stationary. These compressors can both be stationary and large.
Low-noise models
Despite its name, low-noise models of air compressors are not all the same. The noise level of a compressor can be affected by several factors, including the power source and proximity to the machine. Reciprocal compressors are generally louder than electric ones because of their many moving parts. By contrast, rotary-screw and scroll compressors have fewer moving parts and are quieter.
The noise level of a gas-powered air compressor can be extremely high, making it unsuitable for use indoors. To combat this problem, you can choose an electric model. The noise level of a compressor is primarily caused by motor friction. The cover of a piston is also a major factor in noise, as pistons with minimal covers will produce a lot of noise. Previously, oil was required for a quiet compressor. However, this has changed thanks to the medical industry's demand for oil-free models.
The CZPT EC28M Quiet Air Compressor is another model that features quiet operation. This air compressor makes 59dB of noise. This level is low enough to allow you to carry on normal conversations while it cycles. In addition, this compressor has an industrial oil-free pump and a 2.8 Amp direct-drive induction motor. These two features make it a great choice for businesses.
Low-noise models of air compressors are available for the construction industry. However, these compressors are not necessarily low-quality, which is why you should consider the noise level of your air tool before purchasing one. The specialists at CZPT can recommend the low-noise models for your particular application and space. Noise can distract people who work near the air compressor. That is why many businesses now opt for these models.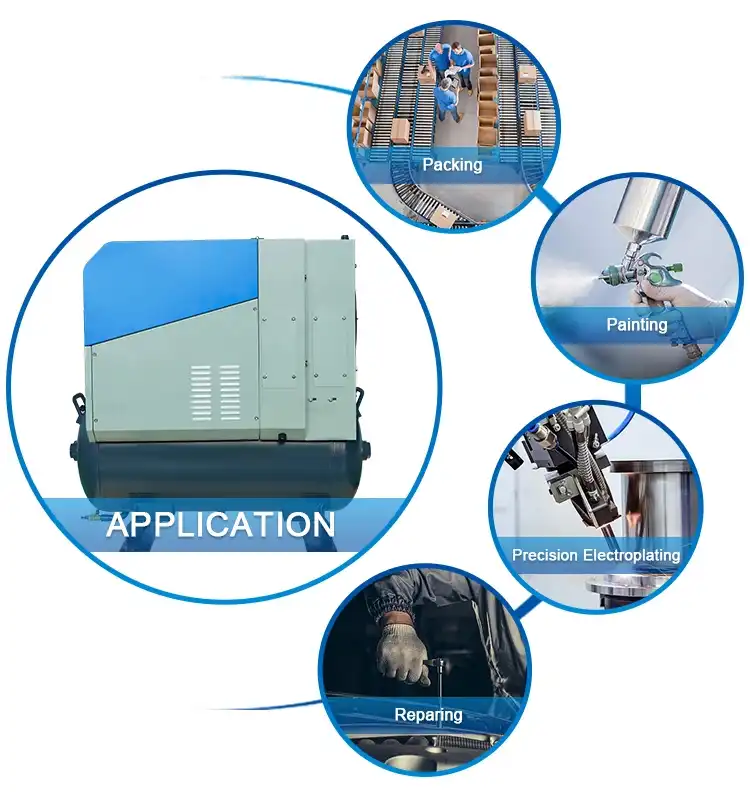 Oil-free models
A number of oil-free models of air compressors are available, but what makes them special? Oil-free compressors don't contain oil, so they're lubricated by grease instead. They're a good choice if you're working with a small compressor and don't want to risk damaging it. On the other hand, oil-free models do generate significant amounts of heat, which can damage the compressor. Higher pressure can grind the compressor against itself, or even warp it.
A few words of knowledge can help you choose the best oil-free air compressor for your needs. For example, a compressor's horsepower is a measurement of how powerful the motor is. Higher horsepower means a higher PSI or ACFM. You can also use the ACFM to compare the two. Scroll technology is a modern air compression system that uses a stationary and mobile spiral. This reduces the volume of air in the compressor by directing it to the center.
Purchasing an oil-free air compressor doesn't have to be a daunting task, though. A good distributor can advise you on what type of oil-free air compressor is right for you. This way, you can save money and enjoy peace of mind while using your air compressor. And, of course, the best way to get a great deal on an air compressor is to speak to a distributor who is knowledgeable about the products available.
An oil-free air compressor is a great option for businesses that are sensitive to the contamination of air. For example, in the pharmaceutical and food industry, a minuscule oil could spoil a product or even damage production equipment. Oil-free air compressors generally have lower maintenance costs than oil-flooded models because there are fewer moving parts. Because of this, oilless air compressors require fewer maintenance and may still need to be replaced occasionally.
A few advantages of an oil-free air compressor over an oil-lubricated one include lower noise levels. Oil-free air compressors tend to be less noisy and run more quietly than oil-injected ones, but you should still carefully weigh the pros and cons before making a decision. Also, consider how much you use your air compressor before choosing a model. The pros outweigh the cons. In the end, you'll be glad you chose an oil-free air compressor.



editor by czh 2023-02-18
Merchandise Description
Expert technologies adjustments people's lives ! We,ZHangZhoug CZPT Instruments Co.,Ltd, are manufacturer specialised in the creation of large overall performance air compressors and slicing devices based mostly on customers' employing demands with the continuous research and advancement of new engineering.
The CZPT AC&DC collection air compressors Oil-Free Compressor is transportable and light-weight. It functions an oil-free, upkeep-cost-free Everlasting magnet brushless pump for constant 24hours running time with quick recovery.
How to Select the Correct Air Compressor
An air compressor employs pressurized air to electricity a range of tools. They are most commonly employed to energy nailers and effect wrenches. Other well-liked employs for air compressors include paint sprayers and influence wrenches. Although all air compressors have the exact same fundamental development, their specialty differs. Ultimately, their differences come down to the volume of air they can thrust. Read on for information on each and every variety of air compressor. These instruments are wonderful for numerous various functions, and selecting the right air compressor depends on your specific demands.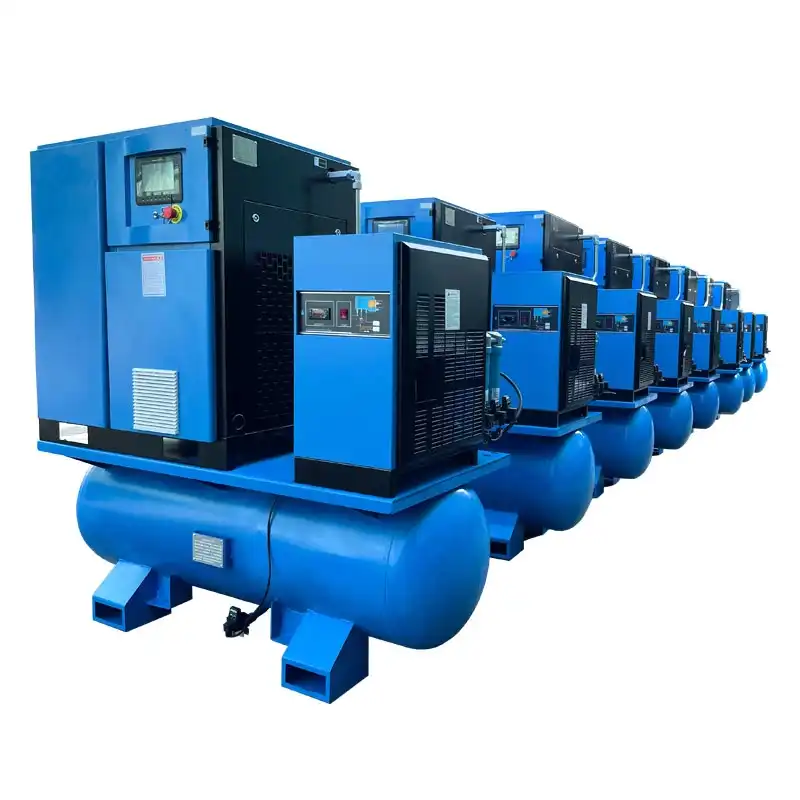 Electric motor
Although getting an electric powered motor for air compressor, compatibility is a essential factor. Not all motors work with the exact same type of air compressor, so it really is critical to verify the manufacturer's instructions just before purchasing. By doing this, you can stay away from throwing away funds on an incompatible motor. Yet another important thing to consider is speed. A motor's pace is its charge of rotation, calculated in revolutions for every moment. It is crucial that you obtain a motor with ample pace to meet up with the requirements of your air compressor.
Usually, an electric motor for air compressor is 1.5 hp. It is best for use with health care equipment and metallic-cutting equipment. It also performs well underneath continuous procedure and provides a higher performance and power-saving functionality. Moreover, it functions an desirable cost, making it a great selection for a broad selection of applications. If you are seeking for a motor for an air compressor, search no more than a ZYS series.
A motor's defense class signifies how the motor will operate. Safety courses are specified by the IEC 60034-5. These are mentioned with two digits and represent the protection in opposition to reliable objects and h2o. For illustration, an IP23 rating indicates that the motor will be secured from strong objects, whilst IP54 signifies that it will defend from dust and h2o sprayed from all directions. It is important to select a motor with the correct safety course for your air compressor.
When deciding on an electric powered motor, you should contemplate whether it is compatible with the brand name of air compressor. Some may be compatible, whilst other people may require advanced electronics capabilities to fix. Even so, most air compressors are covered by guarantee, so it really is important to examine with the producer if the guarantee is even now in influence before you invest a dime on a substitution. The motor should be replaced if it has failed to carry out as designed.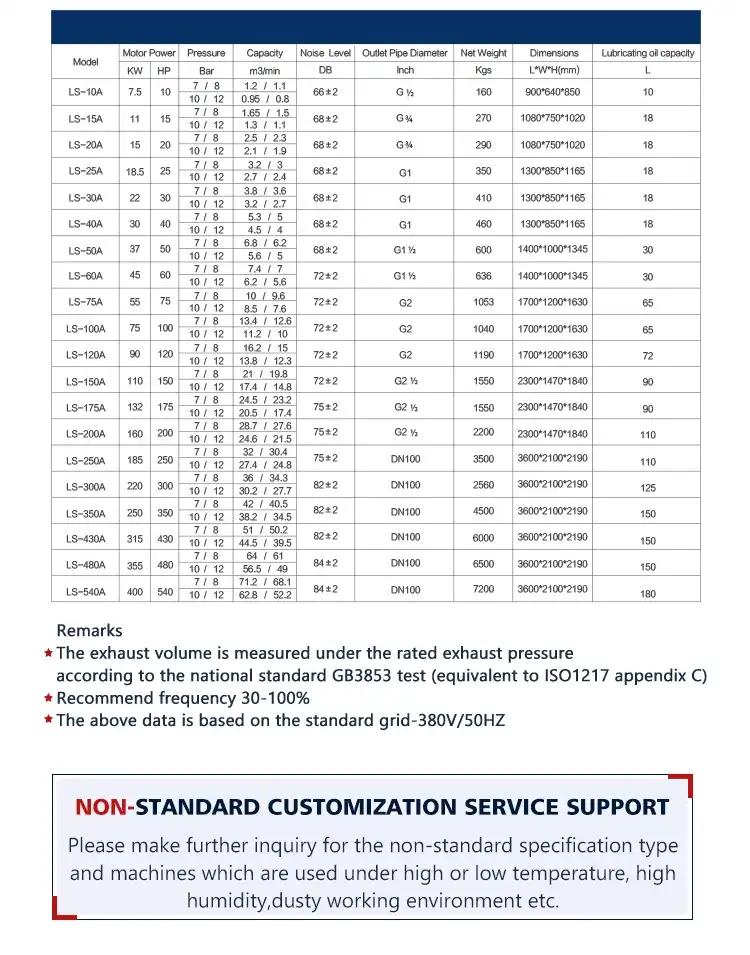 Oil bath
Air compressors require suitable lubrication to perform efficiently. The piston should attract air with minimum friction. Dependent on their design, air compressors can both be oil-lubricated or oil-cost-free. The former utilizes oil to decrease piston friction, even though the latter splashes it on the cylinder bearings and walls. Such air compressors are commonly acknowledged as oil-flooded air compressors. In get to preserve their oil baths clear, they are advised for use in locations with substantial dust stages.
Start off/stop control
An air compressor can be managed by a start/quit manage. This variety of management sends a signal to the major motor that activates the compressor when the demand for air falls under a preset limit. This control strategy is powerful for scaled-down air compressors and can be helpful for lowering energy fees. Start off/stop handle is most powerful in apps in which air strain does not adjust regularly and where the compressor is not required to operate constantly.
To troubleshoot this issue, you need to check out the power supply of your compressor. To examine the supply facet, use a voltage monitor to figure out if electricity is flowing to the compressor. Make sure that the electrical power source to the compressor is constant and secure at all occasions. If it fluctuates, the compressor may not commence or quit as expected. If you can't find the problem with the air compressor electrical power source, it could be time to replace it.
In addition to the begin/quit manage, you might want to acquire further air receivers for your air compressor. These can enhance the ability of air saved and minimize the number of occasions it starts off and stops. An additional way to reduce the quantity of starts off per hour is to include far more air receivers. Then, you can alter the management to match your specifications. You can also put in a force gauge that screens the compressor's overall performance.
Commence/quit control for air compressors can be sophisticated, but the fundamental components are fairly effortless to recognize. One particular way to examination them is to flip the compressor on or off. It is generally situated on the exterior of the motor. If you happen to be uncertain of the spot of these elements, check the capacitors and make certain that the air compressor is not running although you might be not utilizing it. If it does, consider to remove the capacitor.
Variable displacement control is another way to alter the volume of air flowing into the compressor. By managing the amount of air, the control can delay the use of further compressors until far more required air is offered. In addition to this, the system can also monitor the power utilized in the compressor. This manage approach can consequence in significant vitality cost savings. You can even conserve on the volume of electrical energy by utilizing variable displacement control. It is vital for productive compressed air programs.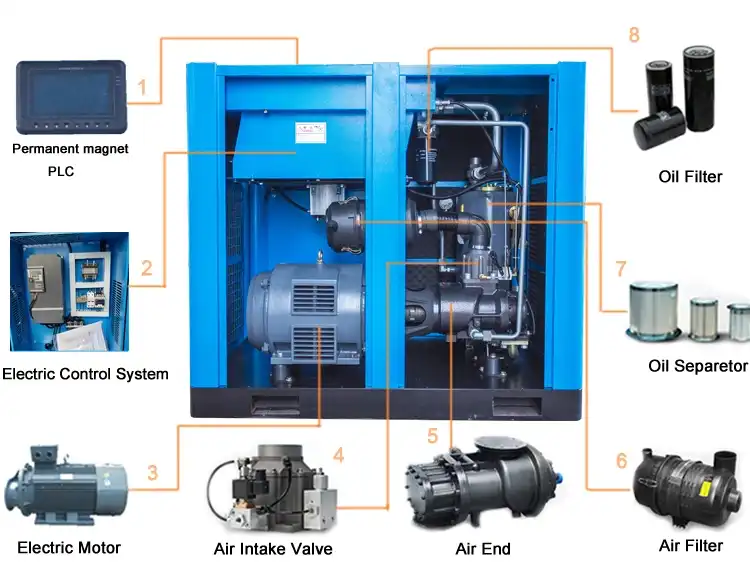 Variable speed push
A VFD, or variable frequency generate, is a variety of electric powered motor that adjusts its pace to match the need for air. It is an successful way to lessen vitality charges and improve program reliability. In fact, reports have proven that a 20% reduction in motor speed can help save up to 50% of energy. In addition, a VFD can keep an eye on further variables this kind of as compressor oil stress and motor temperature. By reducing guide checks, a VFD will enhance the overall performance of the application and lessen working charges.
In addition to decreasing strength fees, variable-velocity drives also increase productivity. A variable-pace air compressor minimizes the risk of technique leaks by thirty %. It also reduces the risk of system leaks by lowering pressure in the method. Because of these rewards, many governments are advertising this technology in their industries. Many even offer you incentives to assist organizations update to variable-speed drives. For that reason, the variable-speed drive can advantage several air compressor installations.
One key benefit of a variable-speed travel is its ability to enhance energy use. Variable frequency drives are capable to ramp up and down to match the demand from customers for air. The goal is to enhance the stress and movement in the technique so that the very best "useless band" takes place amongst forty percent and eighty percent of complete load. A variable-speed compressor will also enhance vitality performance simply because of its programmability.
A variable-pace air compressor can also be utilized to handle the sum of air that is compressed by the program. This feature adjusts the frequency of energy supplied to the motor based mostly on the demand from customers. If the desire for air is low, the frequency of the motor will decrease to help save power. On the other hand, if there is an excessive need for air, the variable-pace compressor will increase its speed. In addition, this sort of air compressor is more effective than its mounted-velocity counterpart.
A VFD has a lot of advantages for compressed air programs. 1st, it aids stabilize the strain in the pipe community, thereby decreasing the power losses due to upstream pressure. It also will help decrease the power intake triggered by fluctuations in upward force. Its advantages are also considerably-reaching. And as lengthy as the air pressure and air supply is effectively sized, a VFD will help improve the efficiency of compressed air programs.