Product Description
Screw type air compressor structure of a unique design, a compact, stylish appearance, high efficiency, small energy consumption, low noise characteristics and long life, is a smart environment-friendly products. Is widely applied in metallurgy, machinery, chemicals, and mining, and electric power industries of the ideal gas source equipment.     
 Advantage:
1.The third generation of advanced rotor and concise intake control system
2.Efficient centrifugal separator oil and gas, gas oil content is small,tube and core of long life . 
3. Efficient, low noise suction fan of the full use of export dynamic pressure 
    increased effect of heat transfer (air-cooled) 
4. Automatic water-cooling system for large air compressor to provide more 
    efficient 
5.Fault diagnosis system, the control panel is easy to operate 
6 Removable door, equipment maintenance, service convenient 
7.Micro-electronic processing so that temperature, pressure and other parameters are closely         monitored .
PRODUCT HIGHLIGHTS
1.The brand power,reliable quality, stable performance.The harsh thermal equilibrium serviceability can guarantee that the machine work effectively under high temperature environment  (≤40ºC).
2.Unique patent design, light load startup system, the air control design is adapt to the  drilling work with high stability.
3.Efficient cooling system, divided into 3 parts: water- cooled ,mid- cold, oil cold, which ensure the reliable operation of diesel engine, and it's suitable for high temperature working environment.
4.Independent research and development of the opposite door design, rational layout, which is easy to do regular maintenace ,with advantages of the fixed and portable compressor.
5.A single point lifting, forklift hole device, equipped with drag ring.It is suitable for repair car transport, easy to transfer and installation of the unit.
6.Waterproof and dustproof design, which is suitable for outdoor hard working environment.
7.According to customer requirements, the heating boiler and remote components is available for cold starting.
BRAND CONFIGURATION

Highly Effective Two-stage Compression Screw Airend
High efficiency 2 stage compression engine, with super long bearing life, high reliable sealing performance, produced product quality and manufacturing precision.The long-term market test has established a good
reputation among the global users.
Long operating life                                Low maintenance cost
High efficiency, little leakage triangle, low specific power
Less wear parts                                     Little vibration, low noise
Name Brand Power
International name brand diesel engine                              Low fuel consumption and good fuel economy
Compact structure is easy to be maintained                       Super power,green and enviromental protection
Xihu (West Lake) Dis.nized Control System
German brand VDO instrument                 Clear contact surface ,easy operation
High performance, brand guarantee          Ultra strong sensitivity
Air System- Over Loading Air Filter
United States brand reloading air filtration, cyclone filtration and adsorption filtration, double filtration effect
Dust removal ≥99.9%,filtering fineness ≤3μm
Ensuring the airend to be effectively dustproof and the quality of the air.
Application fields
Comps two-stage compression diesel fixed screw air compressor is widely used in
Our Exhibition
1.Pre-sale service:
Act as a good adviser and assistant of clients enable them to get rich and generous returns on their investments . 1.Select equipment model. 2.Design and manufacture products according to client's special requirement ; 3.Train technical personnel for clients .
2.Services during the sale:
1.Pre-check and accept products ahead of delivery .
2. Help clients to draft solving plans .
3.After-sale services:
Provide considerate services to minimize clients' worries.
1.Complete After-sales service,professional engineers available to service machinery at home or oversea.
2. 24 hours technical support by e-mail.
3.Other essential technological service.
| | |
| --- | --- |
| Lubrication Style: | Lubricated |
| Cooling System: | Air Cooling |
| Power Source: | Diesel Engine |
| Cylinder Position: | Vertical |
| Structure Type: | Closed Type |
| Installation Type: | Stationary Type |
| | |
| --- | --- |
| Customization: | |
What role do air dryers play in compressed air systems?
Air dryers play a crucial role in compressed air systems by removing moisture and contaminants from the compressed air. Compressed air, when generated, contains water vapor from the ambient air, which can condense and cause issues in the system and end-use applications. Here's an overview of the role air dryers play in compressed air systems:
1. Moisture Removal:
Air dryers are primarily responsible for removing moisture from the compressed air. Moisture in compressed air can lead to problems such as corrosion in the system, damage to pneumatic tools and equipment, and compromised product quality in manufacturing processes. Air dryers utilize various techniques, such as refrigeration, adsorption, or membrane separation, to reduce the dew point of the compressed air and eliminate moisture.
2. Contaminant Removal:
In addition to moisture, compressed air can also contain contaminants like oil, dirt, and particles. Air dryers help in removing these contaminants to ensure clean and high-quality compressed air. Depending on the type of air dryer, additional filtration mechanisms may be incorporated to enhance the removal of oil, particulates, and other impurities from the compressed air stream.
3. Protection of Equipment and Processes:
By removing moisture and contaminants, air dryers help protect the downstream equipment and processes that rely on compressed air. Moisture and contaminants can negatively impact the performance, reliability, and lifespan of pneumatic tools, machinery, and instrumentation. Air dryers ensure that the compressed air supplied to these components is clean, dry, and free from harmful substances, minimizing the risk of damage and operational issues.
4. Improved Productivity and Efficiency:
Utilizing air dryers in compressed air systems can lead to improved productivity and efficiency. Dry and clean compressed air reduces the likelihood of equipment failures, downtime, and maintenance requirements. It also prevents issues such as clogging of air lines, malfunctioning of pneumatic components, and inconsistent performance of processes. By maintaining the quality of compressed air, air dryers contribute to uninterrupted operations, optimized productivity, and cost savings.
5. Compliance with Standards and Specifications:
Many industries and applications have specific standards and specifications for the quality of compressed air. Air dryers play a vital role in meeting these requirements by ensuring that the compressed air meets the desired quality standards. This is particularly important in industries such as food and beverage, pharmaceuticals, electronics, and automotive, where clean and dry compressed air is essential for product integrity, safety, and regulatory compliance.
By incorporating air dryers into compressed air systems, users can effectively control moisture and contaminants, protect equipment and processes, enhance productivity, and meet the necessary quality standards for their specific applications.
Are there differences between single-stage and two-stage air compressors?
Yes, there are differences between single-stage and two-stage air compressors. Here's an in-depth explanation of their distinctions:
Compression Stages:
The primary difference between single-stage and two-stage air compressors lies in the number of compression stages they have. A single-stage compressor has only one compression stage, while a two-stage compressor has two sequential compression stages.
Compression Process:
In a single-stage compressor, the entire compression process occurs in a single cylinder. The air is drawn into the cylinder, compressed in a single stroke, and then discharged. On the other hand, a two-stage compressor utilizes two cylinders or chambers. In the first stage, air is compressed to an intermediate pressure in the first cylinder. Then, the partially compressed air is sent to the second cylinder where it undergoes further compression to reach the desired final pressure.
Pressure Output:
The number of compression stages directly affects the pressure output of the air compressor. Single-stage compressors typically provide lower maximum pressure levels compared to two-stage compressors. Single-stage compressors are suitable for applications that require moderate to low air pressure, while two-stage compressors are capable of delivering higher pressures, making them suitable for demanding applications that require greater air pressure.
Efficiency:
Two-stage compressors generally offer higher efficiency compared to single-stage compressors. The two-stage compression process allows for better heat dissipation between stages, reducing the chances of overheating and improving overall efficiency. Additionally, the two-stage design allows the compressor to achieve higher compression ratios while minimizing the work done by each stage, resulting in improved energy efficiency.
Intercooling:
Intercooling is a feature specific to two-stage compressors. Intercoolers are heat exchangers placed between the first and second compression stages. They cool down the partially compressed air before it enters the second stage, reducing the temperature and improving compression efficiency. The intercooling process helps to minimize heat buildup and reduces the potential for moisture condensation within the compressor system.
Applications:
The choice between a single-stage and two-stage compressor depends on the intended application. Single-stage compressors are commonly used for light-duty applications such as powering pneumatic tools, small-scale workshops, and DIY projects. Two-stage compressors are more suitable for heavy-duty applications that require higher pressures, such as industrial manufacturing, automotive service, and large-scale construction.
It is important to consider the specific requirements of the application, including required pressure levels, duty cycle, and anticipated air demand, when selecting between a single-stage and two-stage air compressor.
In summary, the main differences between single-stage and two-stage air compressors lie in the number of compression stages, pressure output, efficiency, intercooling capability, and application suitability.
Are there portable air compressors available for home use?
Yes, there are portable air compressors specifically designed for home use. These portable models offer convenience, versatility, and ease of use for various tasks around the house. Here are some key points about portable air compressors for home use:
1. Compact and Lightweight: Portable air compressors are typically compact and lightweight, making them easy to transport and store. They are designed with portability in mind, allowing homeowners to move them around the house or take them to different locations as needed.
2. Electric-Powered: Most portable air compressors for home use are electric-powered. They can be plugged into a standard household electrical outlet, eliminating the need for gasoline or other fuel sources. This makes them suitable for indoor use without concerns about emissions or ventilation.
3. Versatile Applications: Portable air compressors can be used for a wide range of home applications. They are commonly used for inflating tires, sports equipment, and inflatable toys. They are also handy for operating pneumatic tools such as nail guns, staplers, and paint sprayers. Additionally, portable air compressors can be used for cleaning tasks, powering airbrushes, and other light-duty tasks around the house.
4. Pressure and Capacity: Portable air compressors for home use typically have lower pressure and capacity ratings compared to larger industrial or commercial models. They are designed to meet the needs of common household tasks rather than heavy-duty applications. The pressure and capacity of these compressors are usually sufficient for most home users.
5. Oil-Free Operation: Many portable air compressors for home use feature oil-free operation. This means they do not require regular oil changes or maintenance, making them more user-friendly and hassle-free for homeowners.
6. Noise Level: Portable air compressors designed for home use often prioritize low noise levels. They are engineered to operate quietly, reducing noise disturbances in residential environments.
7. Cost: Portable air compressors for home use are generally more affordable compared to larger, industrial-grade compressors. They offer a cost-effective solution for homeowners who require occasional or light-duty compressed air applications.
When considering a portable air compressor for home use, it's important to assess your specific needs and tasks. Determine the required pressure, capacity, and features that align with your intended applications. Additionally, consider factors such as portability, noise level, and budget to choose a suitable model that meets your requirements.
Overall, portable air compressors provide a practical and accessible compressed air solution for homeowners, allowing them to tackle a variety of tasks efficiently and conveniently within a home setting.



editor by CX 2023-10-12
Product Description
Product Description
Diesel mobile screw air compressor
This series of products pay more attention to the structural layout of products and the application of innovative technologies while improving the strength of the machine body. The self-developed cooler is equipped with fans with corresponding speed ratio, which can ignore all the high temperature weather. Diesel engines operating at economic speeds can improve fuel economy while operating at low noise. The double-door design greatly solves the trouble of inconvenient replacement of filter element during maintenance.
TECHNICAL SPECIFICATIONS
Type
Screw Air Compressor
Item
 18/18(24/13) Dual duty
Rated FAD
18/24 m³/min
Rate Pressure
18/13 bar
Diesel Brand
CUMMINS Diesel
Engine Power
191KW
Compression stage
2 Stage
Whole Machine walking mode
4 wheels
Dimensions (L*W*H)
3200*2000*2600 mm
Weight
3700KG
Detailed Photos
Packaging & Shipping
Company Profile
FAQ
Q1: Are you factory or trade company?
A1: We are factory. And we have ourselves trading company.
Q2: What the exactly address of your factory?
A2: Our company is located in Kaixuan Road ,Economic Zone HangZhou, ZHangZhoug, China
Q3: Warranty terms of your machine?
A3: One year warranty for the machine and technical support according to your needs.
Q4: Will you provide some spare parts of the machines?
A4: Yes, of course.
Q5: What about the voltage of products? Can they be customized?
A5: Yes, of course. The voltage can be customized according to your equirement.
Q6: Which payment term can you accept?
A6: 30% T/T in advanced, 70% T/T against the B/L copy.
| | |
| --- | --- |
| After-sales Service: | 1 Year |
| Lubrication Style: | Lubricated |
| Cooling System: | Oil Cooling |
| Power Source: | Diesel Engine |
| Cylinder Position: | Angular |
| Structure Type: | Closed Type |
| | |
| --- | --- |
| Customization: | |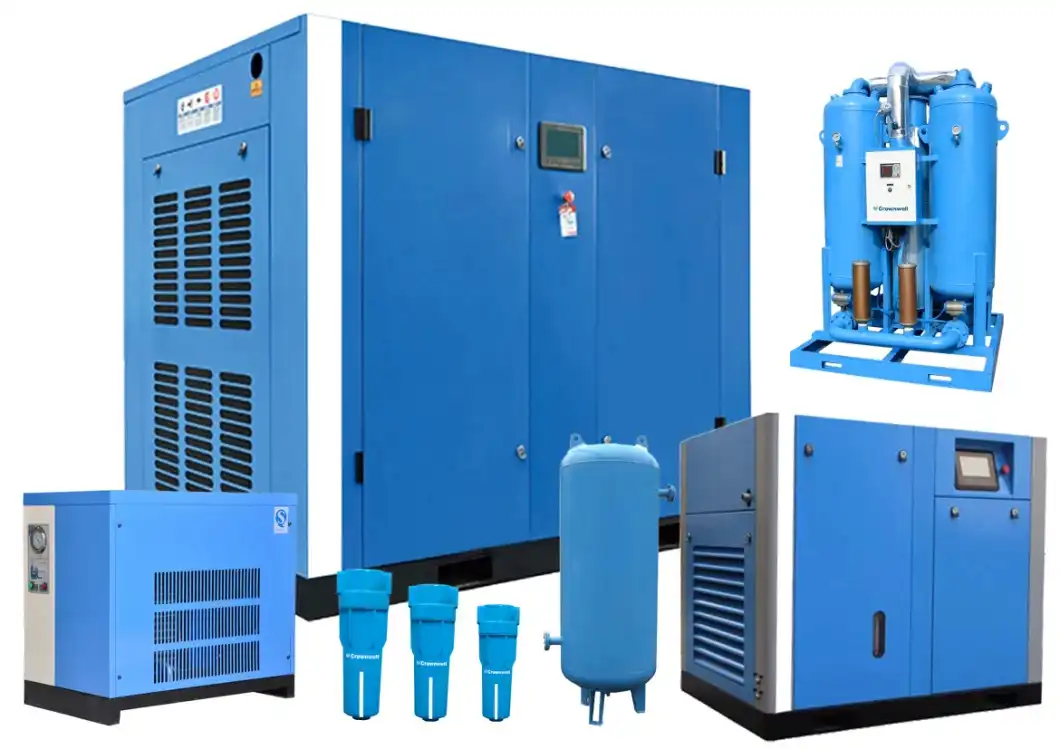 Choosing an Air Compressor
Considering a new Air Compressor? Here are some tips to make the decision easier. Learn the pros and cons of each type, including the differences between oil-injected and oil-free models, single stage and positive displacement. In addition, learn more about the different technologies that are available for your air compressor. It is important to choose an appropriate unit for the type of work you do. Here are some of the best compressors available today.
Positive displacement
There are several different types of air compressors, but most are positive displacement air compressors. They use a rotary or reciprocating component to compress air. The reciprocating component compresses air by reducing the volume of the chamber. Positive displacement compressors are used in bicycle pumps, chemical plants, and refrigerators. Positive displacement air compressors use multiple inlet ports. Despite the various types, the principle of operation remains the same.
Another type of positive displacement air compressor is a reciprocating piston. The piston inside a cylinder moves up and down, causing the compressed air to fill the upper part of the cylinder. These air compressors are used in a variety of different applications, including blowing bottles and gas pipelines. These air compressors can be water-cooled, lubricated, or non-lubricated. Different types have different capacities and air pressures.
A positive displacement flowmeter uses a rotating chamber that divides continuous fluid into discrete portions. The number of times the chamber is filled and discharged can be used to estimate the flow rate. The rotation speed of the measuring chamber is directly proportional to the flow rate. The drawbacks of this type of positive displacement flowmeter are that it is prone to jamming. If the fluid contains particles, it may be too thick for the meter to determine flow rate.
A negative displacement air compressor was invented in 1860 and is the oldest type of compressor. It uses two lobes positioned in a circular cavity. One rotor is connected to an engine, while the other pushes the other one to spin in the opposite direction. Negative displacement compressors are low-maintenance, but they do require more precision. They are often used in nuclear power plants because they use the kinetic energy of the rotating elements to produce pressure.
Oil-injected
Oil-flooded or oil-injected air compressors use liquid to seal and lubricate moving parts and reduce noise. Oil-flooded air compressors are effective for a variety of pneumatic tools and accessories. Some models have a thermostat that controls the amount of oil used during operation. Other types of oil-flooded air compressors are piston-type models. Here is an overview of the basic differences between these two air compressors.
An oil-injected air compressor is more expensive than a comparable oil-free air compressor, but its advantages far outweigh its disadvantages. An oil-free compressor is quieter, requires less maintenance, and has a lower price tag. It also offers a greater degree of air purity. A number of other advantages may also make this type of air compressor the better choice for many industrial settings. If you need a high-pressure compressor in a tight space, consider the benefits of an oil-free system.
Oil-injected air compressors require more maintenance than oil-free models. Both types of air compressors offer similar capacity and ISO 8573-1 Class 0 and 1-2 purity, but the oil-injected systems require more air-treatment components. They require an activated carbon filter and coalescing filter. Oil-injected air compressors will likely remain the standard for industrial air compressors for many years. And since their performance and efficiency are comparable, it may be worthwhile to invest in some point-of-use air treatment.
Both types of air compressors have their benefits. However, choosing between oil-free and oil-injected air compressors is not as straightforward as you might think. Whichever type you choose, make sure it will meet your needs. The benefits of an oil-injected air compressor outweigh their disadvantages. In general, oil-injected air compressors are more durable and can last longer than oil-free models. The only downside is their higher price.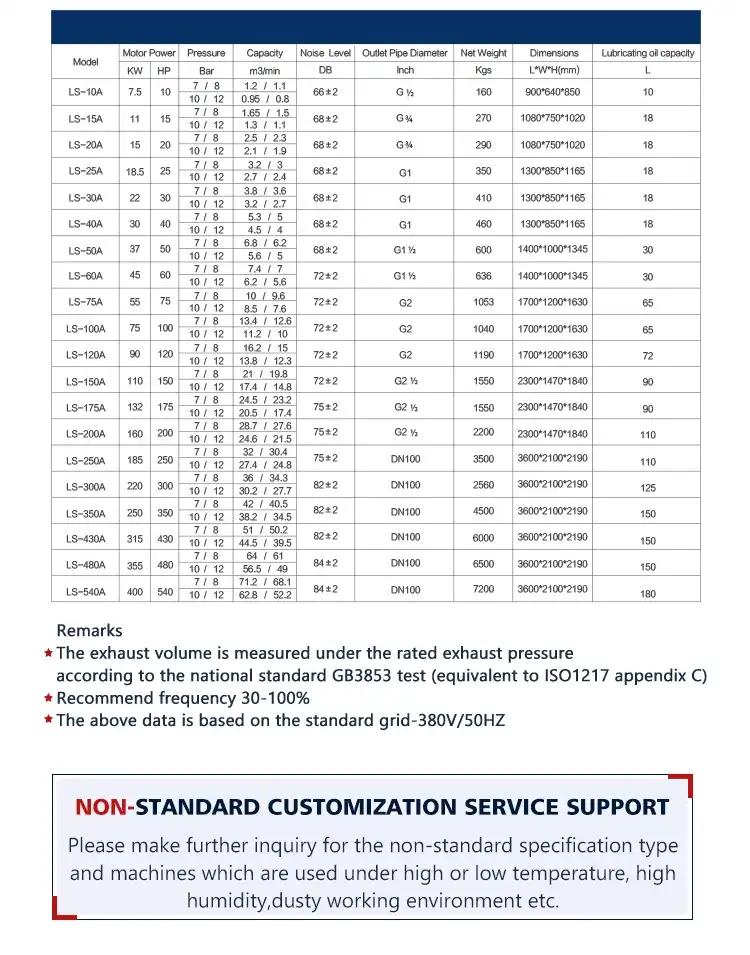 Oil-free
When choosing an air compressor for your company, you'll need to determine what it is going to be used for. For example, if you're planning on using it to power multiple workers, you should consider getting an oil-free compressor. An oil-free compressor, on the other hand, is quieter and can power several workers at a time. If you're a contractor, the most important consideration will be the type of jobs you'll be doing. Higher air pressure means greater demand for air flow, and more pressure can damage the equipment.
Oil-free compressed air is certified 100% free of contaminants. Technically, oil-free air is not completely free of foreign matter, but it is extremely low within the limits of practical air quality. A technically oil-free air compressor might have a total oil level of 0.003 mg/m3. If you're in need of a technically oil-free air compressor, you must install an air treatment equipment after your current compressor.
If you're in the manufacturing industry, a good oil-free air compressor will save you money and reduce your environmental impact. Many of these tools require air compressors to work, and this equipment will ensure that they don't get contaminated. To buy the best oil-free compressor, you should learn a bit about the different terms used by compressor repair companies. ACFM, for example, is the amount of air that can be compressed in one minute at rated conditions.
When you're using an oil-free air compressor, you should know that the overall life of the device will be much shorter. Compared to an oil-flooded rotary screw air compressor, an oil-free compressor typically has a lifespan of 50 thousand hours. But it's important to understand that this type of compressor can still cause damage to piping and processes. Therefore, you should choose an oil-free compressor when you need to clean air for your business.
Single-stage
A single-stage air compressor, also known as a piston air compressor, compresses air only once before storing it in a cylinder. This stored air has enough energy to power a variety of pneumatic tools, such as screwdrivers, chisels, and wrenches. These units are also ideally suited for low-flow applications and are widely used in gas stations, auto shops, and various manufacturing plants.
A single-stage air compressor uses two valves – one for inlet and one for outlet – to transfer compressed air. Both valves are actuated by springs. The inlet valve has a slight curvature to provide protection from damage. The compressor's outlet valve opens when the pressure in the cylinder is higher than the pressure in the storage tank. The piston moves very quickly inside the cylinder, exerting a high amount of force throughout the compression process. This high piston speed is a common cause of compressor wear and tear.
A single-stage air compressor is ideal for smaller tradesmen and small construction crews. Its lightweight and compact design make it easier to transport and store. While it may be tempting to buy the first cheap air compressor you see, it's important to balance the price against performance to choose the right air compressor for your needs. The best single-stage air compressor is one that provides excellent performance and durability. Its two-stage counterpart is designed for larger construction teams and large applications.
The main difference between a single-stage and a two-stage air compressor lies in their capacity. A single-stage air compressor compresses air only once and delivers it into the storage tank, while a two-stage compressor compresses it twice, creating double the pressure. Because of this, single-stage air compressors are cheaper and versatile than their counterparts, which means that they can be used for multiple purposes.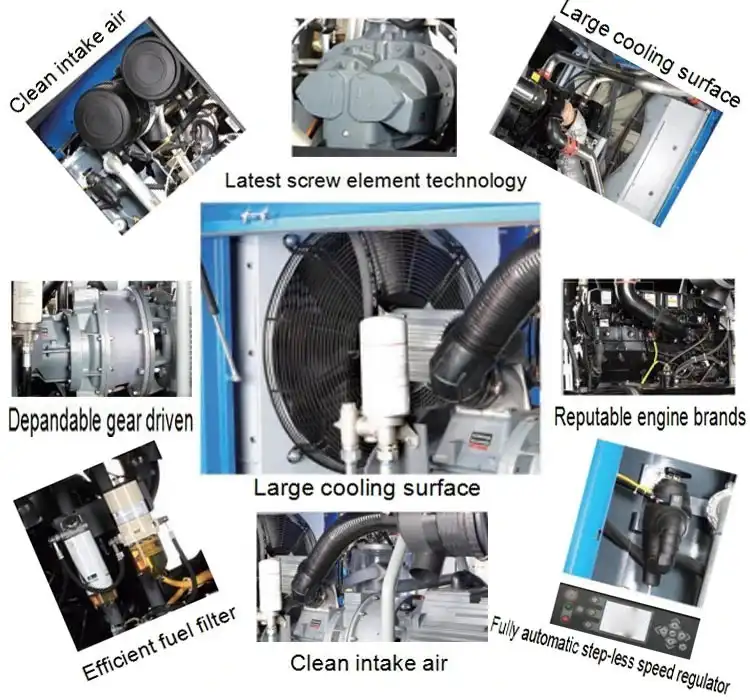 Low-noise
A low-noise air compressor is a type of industrial compressor that is less noisy than regular air compressors. These are generally smaller machines designed for smaller factories and workshops with a few to several employees. They are designed to handle mid-weight volumes of compressed air per day. This type of compressor is especially useful for smaller manufacturing businesses that need to produce compressed air for medical applications. Small breweries can also benefit from the low-noise capabilities of these compressors.
Low-noise air compressors come in various sizes and features. For smaller jobs, you can purchase a one-gallon model that is lightweight and portable. For larger jobs, you can purchase one with a larger tank that can provide more pressure for longer jobs. However, a larger tank will make the compressor heavier and harder to transport. To avoid this, make sure to check the size of the tank and how much power it can handle.
Considering a low-noise air compressor for your business? If so, you've come to the right place. There are a variety of affordable and dependable low-noise options to choose from. A CAT 10020C, for example, is designed to provide high-volume air to many outlets at once. A CAT 10020C comes with a 10-gallon tank, wheels, and a carrying handle.
Noise levels can also affect the productivity of employees. When employees work with air compressors in close proximity to each other, they may develop tinnitus. If employees are free from tinnitus because of the loud noise, they are likely to work more efficiently. Moreover, it will be easier for them to focus and communicate efficiently. If you need a compressor, a low-noise one is an excellent choice.



editor by CX 2023-05-22
Relevant Industries: Manufacturing Plant, Equipment Mend Shops, Farms, Development works , Vitality & Mining
Showroom Location: None
Condition: New, New
Variety: Screw
Configuration: Portable
Electrical power Source: Diesel
Lubrication Style: Lubricated
Mute: Yes
Product Amount: 413
Excess weight: 1 kg
Guarantee: 1 Yr
Operating Stress: 8 bar
Air potential: Air Compressor
Equipment Take a look at Report: Not Offered
Movie outgoing-inspection: Not Offered
Marketing Type: New Product 2571
Warranty of main elements: 6 Months
Main Factors: PLC, Engine, Pump, Bearing, Other
Gas Kind: Air
Software: Diesel motor elements
High quality: Substantial Degree
power/speed: regular
Certification: ISO9001:2000
Following Warranty Services: Online support
Packaging Information: Neutral packing or as for every customer's ask for
Port: ZheJiang or any port of China
Packaging & 355kw 470hp variator speed generate vector management EM12-G3-355 ac motor pace controller and variable velocity ac generate ShippingPackaging Particulars: Neutral packing or as for each your requirementPort: Xihu (West Lake) Dis.gLead Time: Inside 2 weeks right after received the complete payment
Detailed Pictures Other Merchandise In addition to engines and components for deutz, we also manufacture Dachai, Foton, HuaLing, Weichai, Xichai and Zhongqi areas
Our Business HangZhou Hover Diesel Motor Co.,Ltd. Started in 1993, HangZhou Hover Diesel Engine Co.,Ltd primarily manufacture and distribute diesel engines and spare components, For KTM Duke Bike CNC Aluminum Front Sprocket Chain Include Guard Defend Accessories primary products consist of total diesel engines, generator sets and engine spare parts. The organization can generate the diesel generator sets with energy from 3kw to 2000kw . And we have the complete range of motor spare components, such as but not restricted to pistons, piston rings, cylinder liners, connecting rods, crankshafts, camshafts, motor bearings, cylinder blocks, Tricycle Industrial Transmission Chain Modular Belt Double Strand Motorcycle Established Stress Custom Sprockets cylinder heads, engine valves, cylinder head gaskets, air compressors, turbochargers, water pumps, oil nozzles, oil seals, oil pumps, gas pumps and many others. We can provide substantial stop customers and provide both authentic and high-good quality domestic parts to clients. Sincerely welcome friends from all over the entire world to visit us and achieve CZPT advancement.
Factory Photos Production Process Packing & China provider CNC aluminium alloy motorcycle elements sprocket kit transmission Shipping Warehouse
Choosing the Right Air Compressor For Your Home
You will find that air compressors are indispensable tools for a variety of situations, including garages, home workshops, and basements. These tools can power a variety of tools, and each model is sized to suit the job at hand. Because air compressors have only one motor, they are lightweight, compact, and easy to handle. Using one air compressor to power several tools will also reduce the wear and tear on individual components. This article will introduce some important characteristics to look for when choosing the right air compressor for your home.
Positive displacement
A positive displacement compressor applies pressure to a fluid, whereas a centrifugal one does the opposite. A positive displacement compressor creates the desired pressure by trapping air and increasing its volume. Its discharge valve releases the high-pressure gas. These compressors are used in industrial applications and nuclear power plants. The difference between a positive and negative displacement compressor is that a positive displacement compressor can compress and release air at a consistent rate.
A positive displacement air compressor uses a reciprocating piston to compress air. This reduces the volume of the air in the compression chamber, and a discharge valve opens when the pressure reaches the desired level. These compressors are used in bicycle pumps and other pneumatic tools. Positive displacement air compressors have multiple inlet ports and have several configurations. Positive displacement air compressors have a single-acting and double-acting piston, and can be oil-lubricated or oil-free.
A positive displacement air compressor is different from a dynamic compressor. It draws air into the compression chambers and then releases the pressure when the valve is opened. Positive displacement compressors are common in industrial applications and are available in single-acting, double-acting, and oil-lubricated models. Large piston compressors have ventilated intermediate pieces and crossheads on gudgeon pins. Smaller models have permanently sealed crankcases with bearings.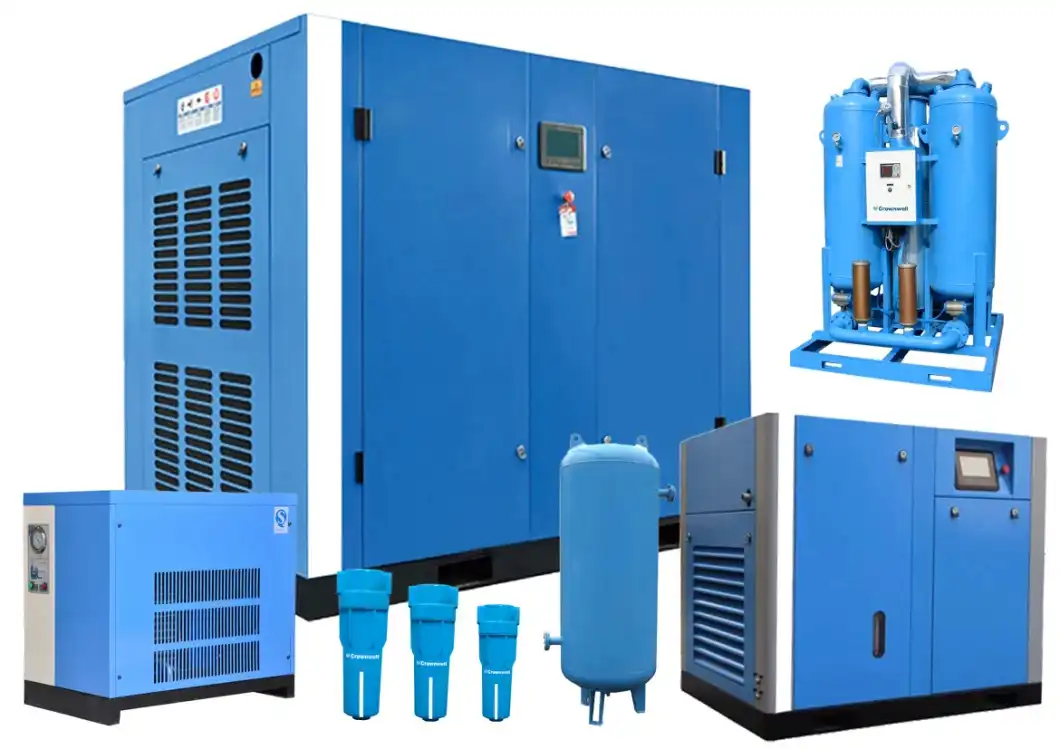 Oil-free
Oil-free air compressors have some advantages over their oil-lubricated counterparts. They do not require lubrication oil because they are coated with Teflon. The material has one of the lowest coefficients of friction and is layered, so it slides past other layers with little effort. Because of this, oil-free compressors tend to be cheaper and still deliver comparable performance. Oil-free compressors are a good choice for industrial applications.
The life of an oil-free air compressor is significantly longer than an oil-lubricated counterpart. These models can operate up to 2,000 hours, four times longer than the average oil-lubed compressor. Oil-free compressors also have a significantly lower operating noise than their oil-lubricated counterparts. And because they don't need oil changes, they are quieter. Some even last up to 2,000 hours.
An oil-free air compressor is a good choice if your application requires high levels of purity. Several applications require ultra-pure air, and even a drop of oil can cause product spoilage or damage to production equipment. In addition to the health risks, an oil-free air compressor reduces the costs associated with oil contamination and minimizes leaks. It also eliminates the need for oil collection, disposal, and treatment.
A typical oil-free air compressor is very efficient, requiring only about 18% of the full load horsepower. However, oil-free compressors have a higher risk of premature failure and are not recommended for large-scale industrial applications. They may also use up to 18% of the compressor's full capacity. They may sound appealing, but you must make sure you understand the benefits of an oil-free air compressor before choosing one for your industrial applications.
Single-stage
A single-stage air compressor is designed to provide the power for a single pneumatic tool or device. These machines are generally smaller than two-stage compressors and produce less heat and energy. These machines aren't designed for heavy-duty industries, but they are still highly effective for a variety of applications, including auto shops, gas stations, and various manufacturing plants. They can also be used in borewells, as they are suitable for small spaces with low air flow requirements.
A single-stage air compressor has one cylinder and two valves – the inlet and the delivery valves. Both of these valves function mechanically, with the inlet valve controlling torque and the delivery one controlling air pressure. Generally, single-stage compressors are powered by a gas engine, but there are also electric models available. The single-stage air compressor is the most common type of air compressor. It has a single cylinder, one piston, and one air cylinder.
The single-stage air compressors are used for small projects or personal use. A two-stage air compressor is more effective for industrial projects. Its longer air end life makes it more efficient. It is also more efficient for use in the automotive industry, where the engine has many cylinders. In general, single-stage compressors require a higher power level. The single-stage model is ideal for small projects, while a two-stage one is suitable for larger-scale arsenals.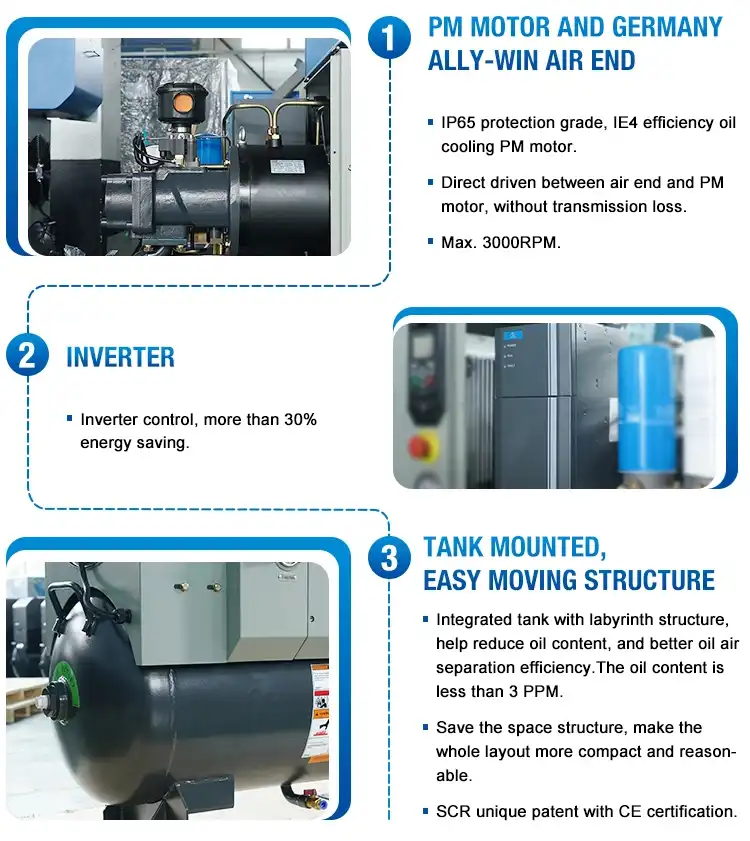 CFM
The cubic foot-per-minute (CFM) of an air compressor is the output of the machine. In order to calculate the CFM level, start by looking at the compressor's specifications. You should know how many cubic feet the unit can hold and how many pounds per square inch it can compress. Once you have these information, you can calculate the CFM. Now you can use these numbers to select an appropriate air compressor for your needs.
The most common way to increase the CFM of an air compressor is to turn the regulator down. By turning the dial down, the air compressor will produce more than 10 CFM. You can also try connecting two output valves. Make sure that the settings are adjusted properly before you begin. This will ensure that your air compressor is functioning at its maximum efficiency and lifespan. To increase the CFM of your air compressor, first check that your regulator is calibrated for the desired pressure level.
To calculate the CFM of an air compressor, first determine the tank volume of the machine. Then, multiply this volume by the time it takes to fill the tank. Then, divide the result by 60 seconds to calculate the CFM. Once you know how much air your machine can hold, you can choose a suitable air compressor. If you're working in a confined area, you should buy a tool with a large tank.
PSI
The PSI of an air compressor is the pressure that it can output. A typical air compressor has a gauge connected to the airline at the bottom, next to it, or between the two. The gauge tells the actual pressure of the air compressor, while the cut-out pressure is determined by the manufacturer. The manufacturer recommends that you set the cut-out pressure twenty to forty PSI higher than the factory recommended pressure. If you want to set the pressure for your nail gun, you can use the cut-in and cut-out pressures on your compressor, and the tank won't exceed this range.
The PSI of an air compressor measures the force that it can deliver, which is often in pounds per square inch. For most air tools, you need at least forty to 90 psi. In general, reciprocating air compressors work on an on/off basis. This relationship is known as the duty cycle. All air compressors are rated for a particular duty cycle, such as fifty percent on and twenty-five percent off.
The Psig of an air compressor is not free, as many people believe. The PSI of an air compressor is not free, but it is essential to maintain it for safe operations. If you're having trouble maintaining a consistent pressure, consider turning down the PSI of your compressor by 2 psig. This will determine the critical pressure for the machine. You'll also increase the amount of energy in the system by one percent.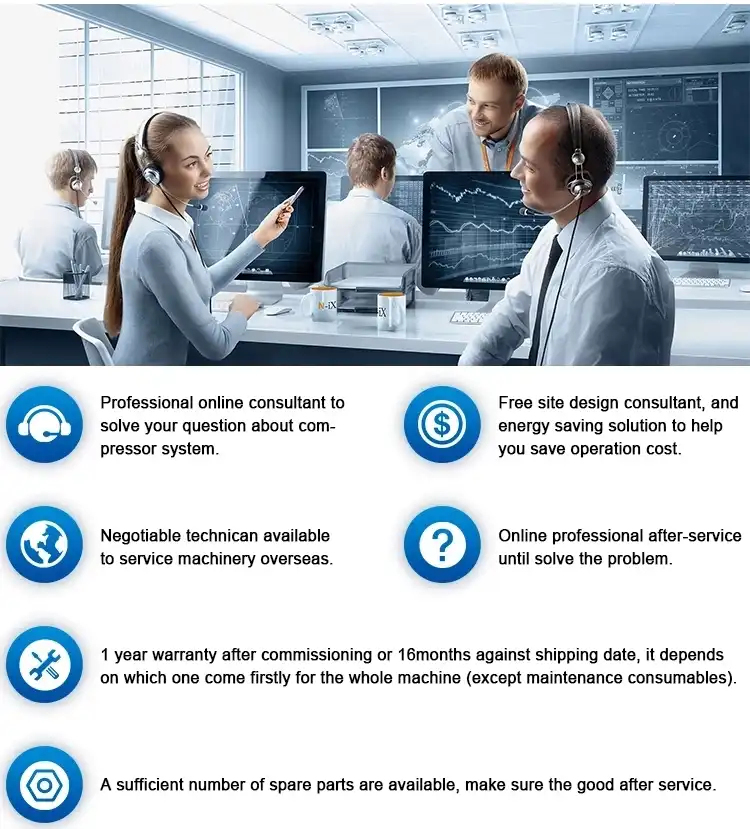 Power source
The power source for an air compressor is crucial in its operation. Without the correct voltage and amperage, air compressors will not function properly. The power source must be close to the compressor so that it can plug into an electrical outlet. If it is too far from the outlet, the compressor may not be able to build enough pressure. When this happens, the fuse inside the air compressor will turn off to protect the user. The power source should be a safe distance from the compressor.
Most manufacturers do not specify the power source for an air compressor. Depending on the horsepower, the compressor will require approximately four amps of power. A one-horsepower compressor would draw about twelve amps. If it were powered by a typical 120-volt household supply, its motor would exceed the 15-amp breaker capacity. A larger air compressor, however, will require a separate 15-amp power source, making it impossible to use it with this type of power source.
The power source for an air compressor is typically electrical alternating current (AC) that is equivalent to the voltage on a standard wall outlet. A three-phase air compressor, on the other hand, requires a special AC supply with three electrical offset pulses. Regardless of the type of air compressor, the power source must be compatible with the incoming power service. One of the most common problems when attempting to connect an air compressor to an AC power source is undersized wire. This results in low voltage and high amperes, tripping of over-load relays and blown fuses.



editor by czh 2023-02-10